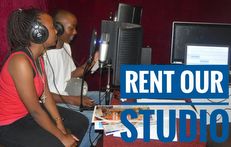 MISA Lesotho is a non-profit making organisation that relies on project funding and support from partners and donors. In order to sustain our capacity building and advocacy programs, we also rent out our recording studio and a DJI phantom 4 drone.
Our recording services include:
Advertisments

Radio programs (pre-recorded)
Jingles
Announcements
Voice-overs
In-store radio
Editing recorded material to cater for your intended needs.
Note: MISA Lesotho can provide a suitable voice, or outsource it depending on your needs.
Rates depend on the type of recording and editing duration of the audio production. To inquire about our rates, don't hesitate to contact us on +266 2232 0941 or drop us an email at misalesotho@misa.com.