National Governing Council
Every three years, MISA Lesotho members elect seven members to serve on the National Governing Council. All Council members are elected from among the membership during the annual general meeting.
Chairperson: Nkoale Oetsi Ts'oana
Deputy Chairperson: Kananelo  Boloetse
Secretary General: Palesa Maharasoa
Deputy Secretary General: Masootho Lephoto
Treasurer: Pulane Ntjantja
Former Chairperson: Boitumelo koloi 
Member: Thapelo Mabote 
Member: Lekhanya  Mpesi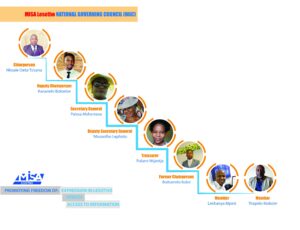 The Secretariat
The Council provides policy direction in the running of the Secretariat, who are MISA Lesotho employees. The Secretariat currently has ten members of staff and one intern.
National Director: Lekhetho Ntsukunyane 
Administration and Finance Manager: Nthati Mokhobo
Programs & Fundraising Specialist: Mzimkhulu  Sthetho
Programs Officer: Mamabitle Khotso
Digital Officer: Moliehi  Tsoinyane 
IT Officer: Makananelo Tsoeu
Graphic Designer: Mafa Majake
Administration Officer: Tsepiso  Lesaoana
Finance  Officer: Lebohang Tseko
Intern: Maleshoane Ratsebe
Office Orderly: Mahlomola  Lejone